The COVID-19 pandemic has seen a huge rise in the number of archaeological discoveries being found in people's back-gardens recorded with the British Museum's Portable Antiquities Scheme (PAS).
In 2020, over 47,000 finds were recorded including some very special and intriguing discoveries. Most found by metal-detectorists.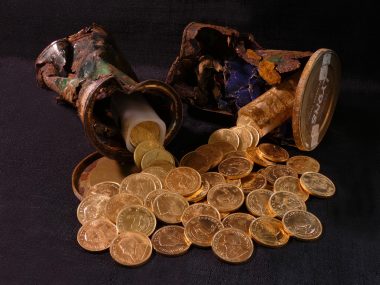 These include a rare find of 50 modern South African Krugerrand 1oz solid gold coins which were found by chance in a back-garden in the Milton Keynes area. They were minted by the Rand Refinery in Germiston in the 1970s during the period of apartheid. How they ended up in Milton Keynes and why they were buried are, for the moment, a mystery.
The Coroner, who will decide whether they are classed as 'Treasure' (under the historic crown right of treasure trove predating the current Treasure Act), will need to determine whether the original owner of the coins (or their heirs) are known.
It is hoped that by making the find public, someone with information will come forward to either the Milton Keynes coroner or the British Museum.
63 gold coins and 1 silver coin of Edward IV through to Henry VIII, and deposited in about 1540, were also recently uncovered in the New Forest area, Hampshire as the finders pulled out weeds in their garden. Ranging across nearly a century, dating from the late 15th to early 16th centuries, the hoard includes four coins from Henry VIII's reign, unusually featuring the initials of his wives Catherine of Aragon, Anne Boleyn and Jane Seymour. The total value of the coins far exceeds the average annual wage in the Tudor period, but it is not yet clear whether this was a saving hoard which was regularly deposited into or if the coins were buried all at once.
Besides these finds, which will go through the Treasure process and which finders have a legal obligation to report, a number of other interesting items have been found and recorded through the British Museum's Portable Antiquities Scheme. These include: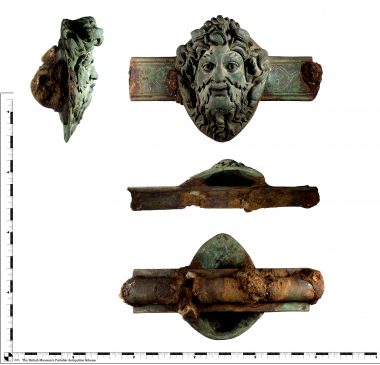 A copper-alloy Roman furniture fitting, was found during lockdown in Old Basing, Hampshire dating from c. AD 43–200. It is decorated with the remarkably well-preserved face of the god Oceanus, including intricate seaweed fronds framing the god's face, beard and moustache.
Tiny dolphins beneath each ear swim down towards the god's chin, whilst serpentine creatures rest on either side of Oceanus' temples – marine motifs related to the god.
So far, no close parallel has been identified among the decoration on household fixtures and fittings for chests, couches or doors of this period, making this item seemingly unique.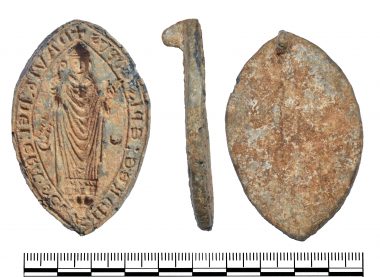 Discovered at  Dursley, Gloucestershire, was a lead-alloy medieval seal matrix in the name of David, Bishop of St Andrews, identified as David de Bernham (r. 1239-53).
The pointed-oval (vessica) matrix shows the bishop standing in his vestments, with a crozier in his left hand. The inscription in Latin reads 'David, God's messenger, bishop of St Andrews'.
High-status seal matrices are usually made of copper-alloy or even silver. Given the material, and the relatively low-quality manufacture of this piece, it is thought likely that this is a contemporary forgery, perhaps used to authenticate copied documents.
A copper-alloy medieval mount, typically worn on low slung belts over armour, that has been gilded, silvered and enamelled, was found at Colyton, Devon. Depicting the white boar of Richard III (r. 1483-85), used as the personal badge by Richard, formerly Duke of Gloucester, from at least the 1470s.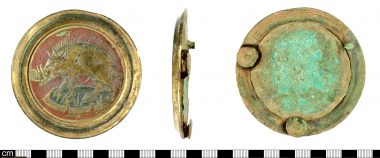 Badges were produced in large number for his coronation, the investiture of his son (Edward) as Prince of Wales, and worn by his supporters. It is likely, therefore, that this example was from a belt, or similar, used by one of Richard's retinue or supporters.
Many of these finds have led to the discovery of exciting archaeological sites, ranging from a high-status Iron Age to Roman dispersed settlement with associated burials in Kent and an Anglo-Saxon cemetery in Lincolnshire, but also a more general picture of how people lived in the past, and where they settled and worked.
The PAS database (finds.org.uk/database) holds information on over 1.5 million objects, all freely accessible to the public. The scheme exists to record archaeological finds discovered by the public to advance knowledge and understanding of British history through research and furthering public interest in the past.
WHAT SHOULD YOU DO IF YOU FIND SOMETHING THAT MAY BE TREASURE?
You must report all finds of Treasure to the Coroner for the district in which the finds were made, either within 14 days of the day on which you made the find or within 14 days of the day on which you realised that the find might be Treasure (for example, as a result of having it identified). The obligation to report finds applies to everyone, including archaeologists.
HOW DO YOU REPORT A FIND OF TREASURE?
You may report your find to the Coroner in person, by letter, telephone, fax, or email: your Finds Liaison Officer will be able to help you to do this.
WHERE WILL YOU HAVE TO TAKE YOUR FIND?
Your local Finds Liaison Officer is normally the main point of contact for Treasure finds (details of your local Finds Liaison Officer can be found at www.finds.org.uk, email info@finds.org.uk or telephone 0207 323 8611.
Upon depositing the find you will be given a receipt. You will need to provide information about exactly where you made the find (the findspot), wherever possible to the equivalent of a six-figure National Grid Reference (100m2 ): in official dealings, the parish or a four-figure National Grid Reference (1km2 ) will be used, whilst a more general location description may be used for particularly sensitive finds. It is strongly recommended that you and the landowner should keep the find-site location confidential.
WHAT IF A MUSEUM WANTS TO ACQUIRE YOUR TREASURE?
The Coroner will hold an inquest to decide whether the find is Treasure. If the find is declared to be Treasure then it will be taken to the British Museum so that a valuation can be recommended by the Treasure Valuation Committee: this amount is what a museum will pay to acquire the find.
However, the Department for Culture, Media & Sport wishes to encourage finders and landowners to consider donating their finds (therefore waiving their right to this financial reward) and gives certificates to all those who do. This in no way prejudices the rights of finders and landowners to claim a reward if they so choose.
Always make sure you have permission if you are using a metal detector, field-walking or mudlurking on private land. For the current government advice on searching for archaeological finds during COVID-19 click here.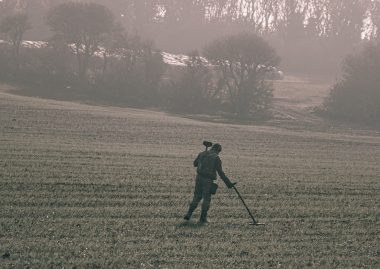 Photo credits: British Museum