Here at English Brands we want to make sure that men always feel stylish and look their best. That is why we stock a wide range of different brands which are known to deliver on style and quality.
Two of the most popular brands that we have as part of our collection are Joseph Cheaney Shoes and Tusting Bags. Well known for selling brogues and bags designed for men, they are a must have in any wardrobe.
Not sure where to start when it comes to buying brogues and bags? We have put together the English Brands guide to them.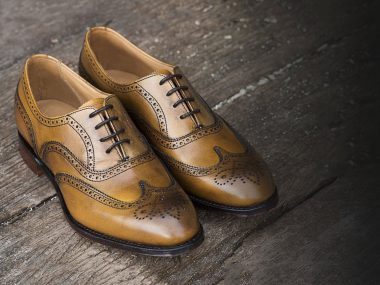 What are brogues?
When it comes to men's shoes, brogues are one of the most easily recognizable of them all. They feature a pattern on the edge of the leather, which is, rather unsurprisingly known as broguing, hence where the name comes from.
These patterns are formed by rows of holes which will follow the shape and flow of the shoe. As these holes are punched into the leather, you simply cannot leave any margin for error, which means that companies such as Joseph Cheaney shoes, are known to make their shoes to the very best quality.
Which pattern to pick?
One issue that you might find yourself facing when it comes to choosing which brogues to go for is which pattern that you like the best. They may all look similar, which makes it harder to choose, however, if you can figure out the differences in the patterns, then you may know which one is best for you.
One of the simplest style of brogues that you can buy is the quarter brogue. They are often chosen for occasion wear. The pattern on these shoes may be minimal and more on the simplistic side, however, this doesn't mean that they are plain in boring. In fact, they are actually one of the most sought after types of brogues that you can buy.
The next type of brogue pattern that you can guy is the semi-brogue. This particular pattern is very versatile and offer some form of midway point between the quarter and the full brogue. These midway shoes are great when teamed with a full suit, and are the choice for those that like a more dramatic pattern, but are not quite ready to brave the full brogue pattern.
If you are feeling brave, then the wingtip or full brogue is definitely going to be the choice for you. They are known as wingtips due to the W shape that the pattern takes at the front of the shoe. These are intricately patterned and detailed and are often chosen by those who are looking for a more classic look to their shoe.
That said, if you want to go fully vintage, then the best choice for you is the longwing patterned brogue. The longwing brogue is a casual style of wingtip, where the ends of the tip of the W go right down the side of the shoe. They are the ideal finishing touch for vintage looks.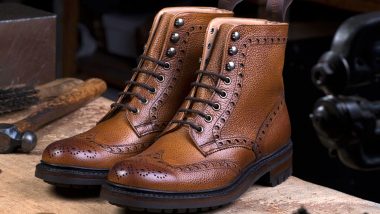 How to wear brogues
Once you have your pattern decided, you may be worried about how you can wear brogues and add them to your wardrobe.
As brogues are a traditional style of shoe, you would be best placed to keep your outfits smarter rather than casual. Whilst they look great with a tailored suit, they also work brilliantly with more formal styled denim or chinos. Particularly if you are trying to put together some vintage style.
If you want to make sure that you bring your outfit together then you might want to go for a matching belt, as this will give you a look that is hard to beat. Which is just what brogues were made for!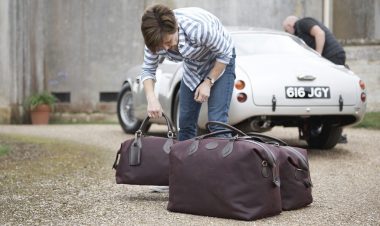 A man's guide to bags
Despite there sometimes being a few raised eyebrows when it comes to man bags, there are more and more men out there who are embracing the usefulness and style that comes with a man bag.
Not sure which bag to go for? Well, here at English Brands we have put together the best man bags that you should buy.
The satchel
The satchel bag is not a modern invention, in fact these bags have been used for hundreds of years. They are worn over your shoulder and much like a backpack, are designed to leave your hands completely free whilst you keep everything that you are going to need easily within reach. They look their best when you go for a soft and luxurious brown leather, which will take you from work to play.
The satchel is a great choice for those who need to carry their work essentials around. They are just the right size for a laptop, a diary and of course your all important lunch.
That said, you need to be aware that if you overload your satchel, then you may end up injuring your back with the weight.
The briefcase
If you think of a professional businessman walking around, you will often visualize them with a briefcase. Briefcases have been popular for years and despite having somewhat of a style upgrade over recent years, they are still seen somewhat of an old fashioned choice.
Now, here at English Brands, we believe that briefcases really do have a place in the modern stylish mans wardrobe. They are now made to be slimmer, sleeker and a whole lot less boxy, which means that they are not only able to carry plenty of things, but they also look great whilst you do it too!
The holdall
If you have more things to carry than usual, then you are going to need to grab for your holdall. Slightly on the big side for everyday use, the holdall will be the go to bag if you are heading to the gym or perhaps even going away for the weekend.
As the name suggests, the holdall can hold all, they are designed to be able to
take a wide variety of things and allow you to carry them with ease. They are also often suitable for hand luggage too, which means that you can pack everything that you need, without worrying about having to pay for extra hold luggage.
The one concern for men when it comes to holdalls is that they are going to lack style. However, we believe that they can offer both style and function. Why not opt for a brown leather holdall which will not only look great but will have plenty of space too.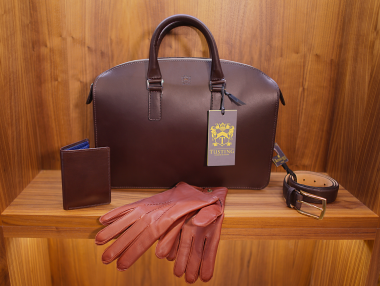 How to make sure that you are buying a quality bag
A bag, much like a pair of shoes, should be seen as an investment. After all, you are going to use these every day. You need to pay particular attention to the zips, fastenings and the straps of the bag. These areas are often put under stress when you use the bag, which means that if they are not made to the best quality, then they may break, which makes the bag unusable.
You should also look at the seams and the anchor points as these are parts that can struggle under the strain of wear and tear.
Don't forget, if you are searching for the ideal bag or brogues, then take a look at English Brands. With classic manufacturers such as Joseph Cheaney Shoes and Tusting Bags, you can be sure that you are not only going to be stylish, but that your new purchase will stand the test of time.