Team GB have launched 'The Moments that Made Me,' an eight-part podcast series featuring the unique stories of the Olympians who make up Team GB, past and present.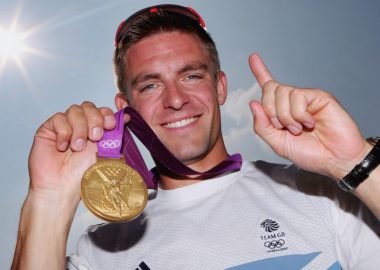 Hosted by sports presenter Radzi Chinyanganya, a different Team GB athlete will share the moments in their life that made them the athlete and person they are today in each of the weekly episodes.
Team GB and its Official University Partner – the University of Hull have partnered up to demonstrate the diversity of UK's most loved sports team through the athletes' varied backgrounds and personalities with stories that the nation can relate to on the journey to the Tokyo 2020 Olympic Games.
This new content series opens with three-time Olympic rowing champion, Pete Reed where he shares his memories of three Olympic Games including being part of Super Saturday with men's coxless four gold. Pete also shares the emotional experience of suffering a spinal stroke last year, which left him paralysed from the waist down, and talks through his inspiring journey of physical and mental recovery. This first episode was launched yesterday on 27 July.
Over the course of the remaining seven weeks, Chinyanganya will interview a host of inspiring athletes and medal winners, including: Ellie and Becky Downie (gymnastics), Rebecca Adlington (swimming), Ed Clancy (cycling), Denise Lewis (athletics), Maddie Hinch (hockey), Max Whitlock (gymnastics) and Lutalo Muhammad (taekwondo).
Commenting on the launch of The Moments that Made Me, Team GB's Digital Communications Manager, Ed Langford says: "We are fortunate to be represented by such a diverse and talented group of individuals. In teaming up with the University of Hull, we're delighted to have developed a platform where the athletes can tell their unique stories and inspire our fans especially at a time where we are without the Olympic Games."
Anja Hazebroek, Director of Student Recruitment and Marketing at the University of Hull adds: "At a time when we all should have been watching and celebrating Team GB perform in Tokyo, we are delighted to have worked with them to develop their very first podcast series, with some of the most inspirational athletes from past Olympic games.
"Much like the journey for athletes in getting to the Olympics, we know that coming to university is a journey and that in many ways the emotions, the highs and the lows experienced by both athletes and students are similar.
"By sharing some of the extraordinary moments that made these athletes who they are, we hope their stories will not only resonate with students and those looking to attend university in the future but with people of all ages, enabling them to reflect on their own defining moments and enjoy reliving Olympic and other sporting memories."
All episodes will be available to listen and download via all major podcast platforms including iTunes, Google Play and Spotify as well as through Team GB's SoundCloud account.
Listen here:
Apple: Click here
Spotify: Click here