Local woman Shelle McGahan has been singing and writing music since she was a child. But it wasn't until she received a gift from her husband of a songwriting course, that her extraordinary talents were discovered by an award-winning music producer.
Shelle was encouraged to reach out to Grammy award-winning music producer Eliot Kennedy who has worked with the Spice Girls, Mary J. Blige, Donny Osmond, Lulu, Gary Barlow, Delta Goodrem and The Wanted.
In fact, it was Eliot Kennedy who famously wrote the nineties hit song Say You'll Be There in just an hour for the Spice Girls – netting him more than £1million. He also co-wrote and produced several other number one hits in the nineties such as Celine Dion's Let's Talk About Love, When You're Gone with Bryan Adams and S Club 7's Bring It All Back. Shelle said:
"I couldn't believe it!

"I knew how much of a legend Eliot was and sent him a few of my songs never in a million years thinking I'd hear back but he did… he got back to me and invited me to the studio. I had to pinch myself!"
Within days Shelle was with Eliot and his team of musicians in his studio laying down her tracks and soaking up the experience. Shelle is also keeping it local by working with Redditch's Elliot Vaughan – a music producer who is a rising star himself in the music world.
Shelle is now performing across the county and you can catch her performing with the Peaky Brummies, a father and son duo at Alcester War Memorial Town Hall this Friday (25th March) at 7.15pm.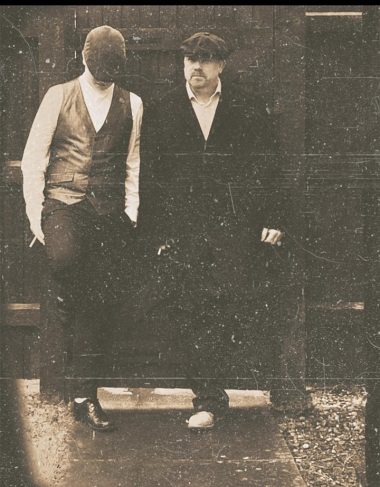 Photo credit: The Peaky Brummies
Where? Alcester War Memorial Town Hall, Henley Street, Alcester B49 5QX
When? Friday 25 Mar 2022, 7.15pm
Shelle told the Standard:
"I will be performing a sample of songs from my forthcoming studio album 'snakes and ladders.'

"This album is all about the process the journey I'm on, the ups and downs the yes the no's, how it affects you, what you have to know and learn about the industry.  BBC radio 2 play and how hard it is to get it and how I need not to be complacent that I got it so early on. It's going to be an album like no other.

"I'm having a documentary team doing a fly on the wall diary to run alongside the album.  I'm working with Eliot Kennedy on the album and it's a process in its self, it's like therapy. Writing songs about life is so rewarding and can make the dullest days seem like Spring."