Street parties are a great part of community life and culture and an ideal opportunity for friends and neighbours to come together to celebrate an event and support charities which matter to your community.
However did you know you must have permission from Redditch Council before closing a road during your party?
But good news – residents planning a party for the Queen's Platinum Jubilee can celebrate with free road closure applications after Redditch Borough Council agreed to waive the usual £75 fee.
With the Commonwealth Games also in the diary for this year, the authority will be publicising the measures people need to put in place to ensure their party goes with a swing.
These include road closures, which although are free, still need to be applied for, and details about temporary events and licenses too.
Councillor Joanne Beecham, whose portfolio covers leisure, said she also wants the people to take advantage of the council's open spaces to hold events. She said:
"Redditch is renowned for its community spirit and with such a momentous year ahead of us this is the perfect time for us all to come together and celebrate.

"The borough boasts amazing green and open spaces, not least our parks, and whether it's a street party or a larger public event, we want to offer support to help residents to make these a reality."
The free road closure applications only apply to events which are associated with the Jubilee.
Council Leader Matt Dormer added:
"We want as many people as possible to come together to celebrate these milestones, especially after the restrictions of the last two years and we hope that waiving the road closure fees will encourage more people to join in the fun."
Party planning details from Redditch Borough Council can be found here.
Please contact viv.banes@bromsgroveandredditch.gov.uk  for your free application to close your road for your Platinum Jubilee Street Party.  If you cannot close your road, you may be able to hold your event in a park or open space.
More helpful tips, advice and support for organising a successful event can be found on The Big Lunch website where you can request a free Big Lunch pack for organisers, and also on the Street Party website.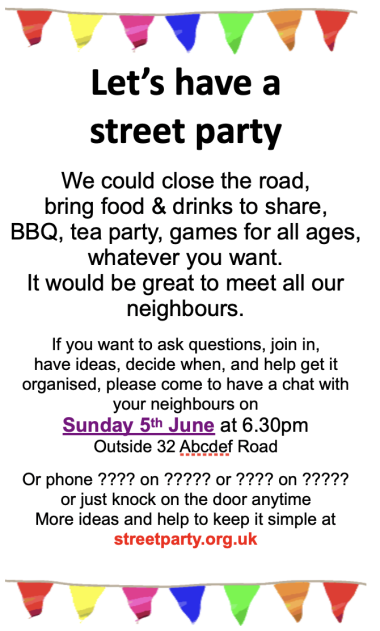 Example of a street party invite you might send out to your neighbours.