"THE MOST outstanding and original drummer of his time, John Bonham's popularity and influence continue to resonate within the world of music and beyond."
Those are the poignant words that grace a 2.5tonne bronze statue in Mercian Square, Redditch, the home town of John Bonham, who was born on May 31, 1948 and began playing drums at the tender age of five.
Bonham tragically died 40 years ago – on September 25, 1980 – aged just 32, but his reputation as a drummer has grown beyond hard rock following his death, and he is now seen as one of the greatest drummers of all time, writes James Iles.
'Z' is for Led Zeppelin
Born on Birchfield Road in Redditch, Worcestershire, John Henry Bonham (named after his father and grandfather) began learning to play drums at five, making a kit out of containers and coffee tins.
His younger sister Deborah recalled in a radio interview how, even before young John could walk, he just wanted to hit pots and pans, often driving his mother Joan mad!
Despite that Bonham received a snare drum off his mum when he was ten, followed by a full kit off his dad when he was 15, upon which he would imitate his idols, including Max Roach, Gene Krupa, and Buddy Rich.
He never took formal drum lessons, picking up tips from fellow drummers instead. He became well renowned on the local gig circuit as a talented stickman, taking his pick of the up-and-coming bands to play with.
In 1964, Bonham became semi-professional with Terry Webb and the Spiders and met his future wife Pat Phillips around this time. He then took up drumming full time with other Brummie bands like The Senators, playing on their single 'She's A Mod' (1964).
A couple of years later, he joined A Way Of Life but after their demise he hooked up with a blues band called Crawling King Snakes, whose leader singer was a curly haired chap called Robert Plant.
Plant remembered the first time they met, saying Bonham had an "arrogant air" about him and was quite cocky!
"John told me: 'You're pretty good, but you'd be better if you had a drummer like me!" Plant recalled in a radio interview.
Despite the prickly initial assessment, Plant and Bonham went on to forge a dynamic relationship in Led Zeppelin and had a mutual respect for each other.
Before that there were a few switch arounds with the bands they each performed in, including Bonham playing for Tim Rose's group, before Jimmy Page left The Yardbirds.
Plant and Page formed another band (initially called The New Yardbirds) and they set about hiring Bonham, but he was not keen at first.
Page and manager Peter Grant had seen Bonham play for Tim Rose and soon saw what Plant had already recognised in the formidable drummer.
Dozens of telegrams were sent to Bonham's local pub in Bloxwich – at the same time he was getting more lucrative offers from the likes of Joe Cocker and Chris Farlowe – but he eventually decided he liked Page and Plant's music better so they got their man.
Joining the three in the band that became Led Zeppelin was another big talent, the bass and keyboard player John Paul Jones.
Led Zeppelin drew their influences from rock, blues and folk but were among the forefathers of heavy metal, along with the likes of Deep Purple, Black Sabbath, Rush, Queen, Aerosmith and Megadeth who followed.
Even in more recent years, alternative rock bands like the Smashing Pumpkins, Nirvana, Pearl Jam and Soundgarden have cited the Zep as a major influence.
Led Zeppelin went on to sell more than 200million records and released eight studio albums from 'Led Zeppelin' and 'Led Zeppelin II' (both 1969) through to 'In Through The Out Door' (1979), heralding the era of the album and stadium tour bands in the process.
Their untitled fourth studio album – famous for the quartet's "symbols" on the sleeve and commonly known as Led Zeppelin IV (1971) – became one of the best-selling albums in history. The LP contained 'Stairway to Heaven", which is one the most popular and influential songs in rock music as well as the superb 'Rock and Roll' and 'When The Levee Breaks'.
"Bonzo", as he was affectionately known, was renowned for his fast, loud and heavy drum sound, together with his incredible kick drum play.
He was the powerhouse that underpinned the heavy metal sound but his playing was much more intricate than that, and that's why he's still seen as the world's best ever drummer.
He had been initially influenced by listening to the likes of Joe Morello from the Dave Brubeck Quartet, Buddy Rich and Gene Krupa on his parents' jazz records as a kid.
Such early inspirations shone through in Bonham's drumming technique.
There was no second kick drum being used. He would replace the strap for a chain on his Ludwig kit's bass drum, and many contemporaries soon followed, having been left dumbfounded by his impressive triplet fills which were akin to those great jazz players.
Bonzo threw in accents and could create a groove like funk drummers such as Clyde Stubblefield who worked with James Brown.
It's often been said that Led Zeppelin didn't just have a lead singer and a lead guitarist, but also a lead bassist and a lead drummer. That's what set them apart. Indeed, on tracks like 'Immigrant Song' (1970), you can hear how Bonham's drums are like a lead track as they echo Page's lead guitar riffs, rather than working exclusively with John Paul Jones' bassline.
On 'Fool In The Rain' (1979) the separate hi-hat track and snare / kick track work together as two complementary rhythms before a calypso middle section begins.
'Kashmir' (1975) pits Bonham's 4/4 time rock beat against the strings and guitar working more in triplets so they only sync up every 12 beats which builds a dramatic tension.
Perhaps the best showcase of his drumming is on the brilliant Moby Dick (1969) where a 12-bar blues riff in D intro drops away to let his kit make the melodies for six minutes, though this sometimes became half an hour on live shows!
Marvel at John Bonham playing 'Moby Dick' live in concert on this YouTube clip – https://www.youtube.com/watch?v=UOSf9f5_qZ8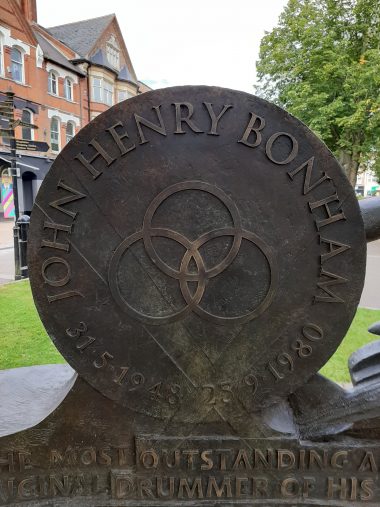 Contemporaries like Black Sabbath drummer Bill Ward said Bonzo set up his drums according to whether or not it felt like you had been punched in the stomach or not. If you felt like you had, they were getting there!
Jimi Hendrix, upon watching Led Zeppelin live in the 70s, said: "That drummer of yours has got a right foot like a pair of castanets!"
Sir Paul McCartney, who worked with Bonzo in Wings, called him a "powerhouse" drummer who was "downright ballsy".
Phil Collins said John Bonham "is probably the most important influence in my life", and often tried to emulate his hero on his own recordings.
Dave Grohl says Bonzo will forever be the greatest drummer of all time.
Bandmate John Paul Jones called him a "bass player's dream" while Jimmy Page said Bonham made life easy for producers as he knew how to tune his drums and get so much volume out of them just by playing with his wrists. "He really knew how to make the instrument sing," said Page.
Robert Plant has regularly stated Bonham was irreplaceable and Led Zeppelin could never play again without him. He said Bonzo was the main part of the band, who made it all work.
Writing at the time of Bonham's 70th birthday in 2018, when a bronze sculpture created by Mark Richards was unveiled in his home town of Redditch, fellow journalist Matthew Salisbury wrote about "John Bonham's fabulous band."
Salisbury, who witnessed the mighty Zep performing in the 1970s, described Bonham as a "peerless" player who was: "Powerful, driving, frequently over-the-top and as much a star as the rest of the quartet. He also provided subtlety behind some of the decade's great gentle songs. A true all-rounder.
"While his early death has given him that legend status which always guarantees a place at rock's top table, it should be noted that he won his enviable reputation while very much still alive.
"Perhaps the greatest testament to Bonzo's worth is there in the fact that when he died, so did the band.
"They could have just slid in a replacement and continued to pull in the fans, the sales and the plaudits. But they didn't. And that's something Redditch should be proud of."
Led Zeppelin's world and the lives of family, friends and fans came crashing down though when, on September 25, 1980, John Bonham tragically died in his sleep following a day spent drinking vodka during band rehearsals.

A verdict of accidental death was recorded by the coroner and Bonham was laid to rest in Rushock Parish Church, Worcestershire.

Rather than replace Bonham, Led Zeppelin chose to disband out of respect for the "King of the Sticks".

A press release signed "Led Zeppelin", and dated December 4, 1980, stated: "We wish it to be known that the loss of our dear friend and the deep respect we have for his family, together with the sense of undivided harmony felt by ourselves and our manager, have led us to decide that we could not continue as we were."

Still setting the benchmark for rock drummers and topping all the polls (he was ranked in first place by Rolling Stone in its list of the "100 Greatest Drummers of All Time"), Bonham was posthumously inducted into the Rock and Roll Hall of Fame in 1995 as a member of Led Zeppelin.
* Check out James' 'Z is for Led Zeppelin' playlist on Amazon Music at https://amzn.to/2ZJGHk7