In the modern workplace, the use of manual logbooks by front desk employees is a generally outdated means of visitor management. The handwriting of a visitor may be illegible, and it is much easier to falsify information this way. With the receptionist software from Add-On's Resource Central, receptionists can check visitors in securely. Visitors come to organisations for a multitude of reasons; some are job-searching, others are prospective clients, and a few may be journalists looking for an inside scoop into how the organisation functions.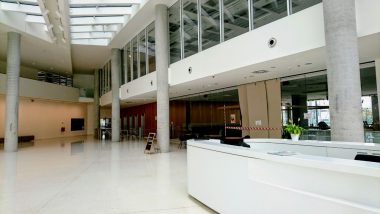 There are stages to visitor management: before the visit, arrival of the visitor and their departure. All these stages can be tracked and processed efficiently with the right tools. Add-On's Resource Central is a software product that can aid in improving communication and information-sharing within an organisation. The visitor management feature is excellent for receptionists; it gives them the ability to register visitors, print and scan visitor badges, and it automatically sends notifications to meeting organisers. To further reduce labour costs, it is possible to set up a self-registration kiosk in the lobby of the organisation.
A self-registration kiosk improves security and prevents crowding in the lobby area. The organisation will not need to hire more receptionists to accommodate for an influx in visitors, but rather invest in new hardware to host the necessary software. A digital registration system is more environmentally friendly than a manual logbook and data can be stored permanently in the cloud, where employees can access it. Reception staff can therefore focus on other tasks.
Resource Central allows for professional welcoming and handling of visitors right from the start. Visitors will remain clearly identifiable while on the premises, so both they and employees at the organisation can feel safe. The process can also be confidential for more sensitive matters. Many businesses recognise the value of their professional image, so solutions like these are also an investment into how the organisation wants itself to be viewed. In a way, the lobby area can be viewed as a business card. While the area should be practical for employees, it should also be inviting and comfortable for visitors.
Receptionist software is used across industries- from corporate settings to hospitals to schools. A comprehensive, well-designed application facilitates real-time information sharing regarding present guests. Software can improve the visitor experience and be a time saver for employees as well. Creating an environment in which people feel safe and welcomed is of utmost importance; these feelings relate to productivity and overall comfort within the organisation.
Visitor management can sometimes go overlooked. One person having a good experience can result in positive word-of-mouth regarding the organisation. The community around the organisation will view it as an organised and efficient workplace, run by reliable employees. Therefore, beyond increasing employee productivity, security and facilitating data analysis, visitor management can broadcast a strong message and enhance positive engagement with the community, clients and even delivery workers. How a business adapts and treats both its visitors and employees can have far-reaching ramifications.