IN THE beginning, four friends from Charterhouse School formed Genesis who started life in 1967 as a folk band, shifted to prog-rock in the 1970s and then – by the seventh year of that decade – became a three-piece pop group.
Tony Banks, Mike Rutherford and Phil Collins – the longest-lasting and most successful line-up of Genesis – turned up noses with their middle-of-the-road respectability, partly because their CDs were found in the 1980s sports cars of shiny-suited, sockless yuppies.
But James Iles argues it is this trio's 'imperial phase' that powered the band to 150 million albums sales worldwide and cemented their place as one of the greatest groups ever.
'G' is for Genesis
The creation
FOUR school friends – Tony Banks (keyboards), Mike Rutherford (guitars), Peter Gabriel (vocals) and Anthony Phillips (guitars) created Genesis in 1967 but it was not until 1970 they started to tour professionally.
Phillips left that year and the band recruited Phil Collins on drums and Steve Hackett on guitars.
Famed for Gabriel's theatrical stage presence they released 'Selling England by the Pound' (1973) and concept album 'The Lamb Lies Down on Broadway' in 1974 but Gabriel left Genesis in August 1975 to go solo, feeling restricted by their long touring schedule.
Phil Collins took over as lead singer at a time the band found popularity in the UK and the US. Hackett then left after the album 'A Trick of the Tail' and 'Wind & Wuthering' (both 1976), leaving the classic line-up of Banks, Rutherford and Collins.
Then There Were Three
The next Genesis album 'And Then There Were Three…' produced their first UK top ten and US top 30 single with the gorgeous 'Follow You Follow Me' (1978), and saw the trio strike out on the most successful era of the group, which lasted well in to the 1990s in terms of chart success.
Genesis as a trio disposed of the theatrics and conceptual recordings, in part due to the explosion of punk music, and focused on writing hit songs, trying to depart from the past. The timing was a perfect storm that brought out the best in three very talented musicians
'Turn It On Again' (1980) (from the LP 'Duke') heralds the first hit of this new era, being made up from parts of each of their unfinished songs. The track boasts a variety of time signatures making it difficult to dance to but it remains a crowd-pleasing favourite, 40 years later.
'Abacab' (1980), a No.9 UK single (from the album of the same name), was formed from parts 'A, B and C' from a group jamming session. It famously features the first use of the gated drum sound (thanks to newly-recruited engineer Hugh Padgham) that also went on to define Collins' solo hits – one of the most instantly recognisable sounds of the 1980s.
'Mama' (1983), about a young man's desire for his favourite prostitute, was the first single from their self-titled album of the same year and remains their biggest UK hit, reaching No.4. The laugh Collins added was inspired by Grandmaster Flash's The Message. It has a brooding, electronic feel to it, thanks to Rutherford adding a Linn drum machine track.
That's All' (1983) was the next single and their first to break the US Billboard Top 100, reaching No.6 across the Atlantic. The song sees Genesis embrace simple pop melodies like The Beatles and Collins mimicking the drumming of Ringo Starr. The brilliant video by director Jim Yukich depicts the band as homeless men attempting to take shelter in a disused factory. Yukich went on to direct many more for Genesis and Collins as a solo artist.
Midas touch
'Invisible Touch' (1986) is the lead-off single from the album of the same name that sparks a roughly six-year period of global chart success with Genesis at the peak of their powers. The LP went on to sell more than 1.2million copies in the UK alone and would cement them in the public psyche forever.
Collins had been buoyed by the success of his solo album 'No Jacket Required' which became a worldwide hit; Banks had released his 'Soundtracks' album while Rutherford launched his successful spin-off Mike and the Mechanics. The three were in fine creative form.
Borne out of a jamming session, 'Invisible Touch' is a staple of their live set and Collins has since declared it his favourite Genesis track. Indeed, it was their only US No.1. Ironically it was knocked off the top spot by Sledgehammer by a certain Peter Gabriel.
Four more singles were released from the album and each of them became classic hits. 'In Too Deep' (1986), 'Land of Confusion' (1986), 'Tonight, Tonight, Tonight' (1987) and 'Throwing It All Away' (1987) all hit the top five of the US Billboard Hot 100 chart. They were the first group to do this from one album and the first foreign pop act, matching the achievements of Madonna and Michael Jackson in the process.
Dance scene
A hiatus followed the long and successful Invisible Touch tour (which was seen by 3.5million across 112 shows) during which time Collins and Rutherford in particular continued to have solo project success, notably Collins' '…But Seriously' album and Mike and the Mechanics' global No.1 single 'The Living Years'.
Banks and Rutherford expected Collins might not return to Genesis but return he did and, in 1991, they recorded the 'We Can't Dance' album which became their fifth successive No.1 LP in the UK (No.4 in the US). However, Collins finally quit the group after that tour to focus on his solo career and did not return until their 'Turn It On Again' reunion tour of 2007.
'We Can't Dance' (named in response to the dance music scene that had exploded during their absence) gave us another six singles and yet more commercial success but critics were less praising of the 12-track album.
Hugh Padgham was replaced by Nick Davis at the desk to assist Genesis with production duties. While the singles were perhaps not of the same calibre as those on 'Invisible Touch', it did give us the poignant 'No Son of Mine' (1991), which tackles the abuse of a teenage boy.
'I Can't Dance' (1991) was the next release. Starting out as 'a bit of a joke', as its Bluesy riffs were 'not very Genesis', it gained traction once Banks added keyboard effects, and Collins added lyrics mocking the models in jeans TV ads. Another witty video from Yukich sealed the single's success.
'Hold on My Heart' (1992) could easily have been a Mike and the Mechanics or a Phil Collins solo hit with its beautiful atmospheres and romantic lyrics while 'Jesus He Knows Me' (1992), a satire of televangelism, delivered my favourite Genesis video.
Collins parodies Ernest Angley in another great Jim Yukich video for the latter, while Rutherford and Banks appear as fellow evangelists. Perhaps Collins' most cynical lyric, it was critical of the hypocrisy of televangelism where viewers were asked to send in money to the 'toll-free number' in return for their salvation from a preacher who claimed to know Jesus!
Sadly, 'Jesus He Knows Me' was to be their last hit single and Collins left the band after the 'We Can't Dance' tour, though Rutherford and Banks did continue, with former Stiltskin frontman Ray Wilson.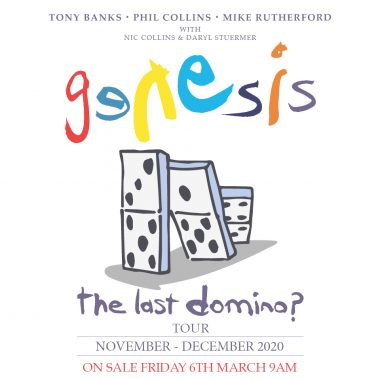 Another throw of the dice
Rutherford, Banks and Collins reformed for their 40th anniversary tour in 2007 and they are back again for 2020, with 'The Last Domino?' tour booked for the end of this year, global pandemic permitting.
Phil Collins' son Nic will pick up the sticks in place of his dad who now suffers from nerve damage which has stopped him from playing the drums ever again.
Announcing the dates on BBC Radio 2, Collins said: "We're all good friends, we're all above grass and… here we are."
My top three Genesis tracks
1) Invisible Touch
2) That's All
3) Follow You Follow Me
Underrated track = Duchess
• Check out James' Genesis playlist on Spotify at http://shorturl.at/FMPV7