A NEW pavilion has opened on Hanbury Recreation Ground, providing long-suffering players from Astwood Bank Cricket Club and their opponents with a more comfortable place to play.
Since 1958, the changing rooms were in a two-roomed shed with no electricity, water or sanitation.
Hanbury cricket teams used the pavilion and the one before it for many years and then some time ago, Astwood Bank teams played their matches at Hanbury Recreation Ground and inherited these unwelcoming quarters.
Astwood Bank Cricket Club captain attended a Hanbury Parish Council meeting and put forward his proposal for the new pavilion which was officially opened last month.
As well as players and parish councillors, the momentous event was also witnessed by residents and MP Rachel Maclean.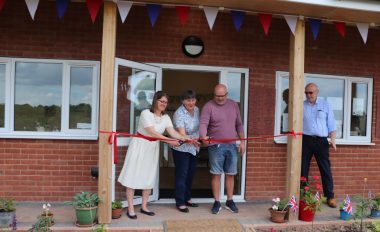 The new bright and airy pavilion encompasses a community room with a small kitchen and a toilet at the front over looking the pitch and two changing rooms at the back, each offering a shower and toilet area.
Mark Brind, the chairman of Astwood Bank Cricket Club, said visiting teams now looked forward to playing at Hanbury.
Clare Stallard, Hanbury Parish Council chairman, who has worked with Tim Haslam and Martin White of Astwood Bank Cricket Club on the build said: "This has been an amazing project with the cricketers making huge donations of time and materials.
"They have been so generous."
The majority of building supplies, equipment, time and expertise was all donated for the project.
Clare added: "Visiting the pavilion, as I did quite often, it was not unusual to find members of the first team painting the walls or up a ladder wiring the lights.
"The parish council provided finance towards the build as well as securing a Community Legacy Grant from Wychavon District Council.
"Parish councillors have also been generous with donations and expertise as well as local companies.
"We are so lucky here in Hanbury to now have a pavilion fit for the 21st. Century, lights and all."
The next steps for Hanbury Parish Council is to secure more funding to landscape the area around the pavilion, with a view to making it an area that would benefit any visitors' wellbeing and peace of mind.
Anyone wanting to hire the community room can contact Clare at pavilion@hanburyparishcouncil.gov.uk for more.