WIMBLEDON might be cancelled this year, but tennis certainly is not.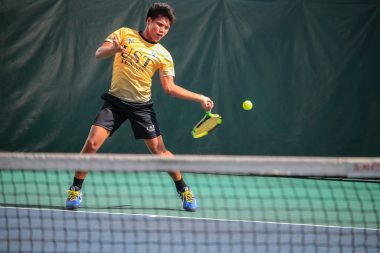 Spin – the free app which helps you find someone to play with – has seen a 35 per cent rise in activity during lockdown compared to the same time last year.
Wimbledon was originally due to start this week, but it was cancelled for the first time since the Second World War due to the coronavirus pandemic.
It is normally Wimbledon which inspires everyone to dust off their tennis rackets every year, but this year's lockdown surge is even higher than the spike caused by Wimbledon in 2019*.
Tennis was one of the first sports declared safe to play once the lockdown restrictions were eased in May and people took advantage of the glorious spring weather to get out of the house and get out on court instead.
However, what if you wanted to play but had nobody to play with? Spin – the free tennis app which helps you find places to play and people to play with – witnessed record levels of activity, allowing people to find their perfect game, set and match right on their doorstep.
Spin's founder and former doctor Ganesh Rao said: "Wimbledon is one of the highlights of the British summer and it's sad it was rightfully cancelled, but we're glad we could do our bit to help new players enjoy the social, mental and physical benefits of tennis whilst maintaining social distancing measures and staying safe."
So, if you are missing Wimbledon and fancy a game, why not give it a Spin? Download the app for free today from www.spintennisapp.com.
*The Spin tennis app usage data showed record levels of activity in June with a 35 per cent increase in the number of people looking for tennis partners nearby in June 2020 versus June 2019.
Wimbledon normally causes a spike every year and last year there was a 29 per cent jump in app activity in July 2019 versus June 2019. Data based on new user activity at the time.